We understand how important it is to know which extra physical materials, such as booklets and slipcovers, come with the titles you buy. We've been listening carefully to your feedback and have been working to make some changes so it's clearer for you to know exactly what comes with each title.
From today (24th February 2023), all Limited Edition releases will include a booklet and a slipcover. Once the Limited Edition version has sold out, we will release a Special Edition / non-Limited Edition version which won't include a booklet or slipcover but will have all the same on disc extras as the Limited Edition disc/s. Please note, that discs or on disc content marked as Limited Edition Exclusive will not be carried over to Special Editions.
Going forward,  If you buy a new title that is a Limited Edition you can be sure you will receive a booklet and slipcover. On rare occasions where this isn't the case, this will be clearly marked on the product page.
We hope this ensures that you will know exactly what are you getting when you buy one of our titles.
We've put together a few Q and As to answer further questions:
Q. How will I know if a release is a Limited Edition or not?
A. It will say in the title if it is a Limited Edition release. e.g. Blackhat Limited Edition 4K Ultra HD
Q. On some of your listings it says a booklet will only come in a First Pressing, is this still the case?
A. If a film has Limited Edition in its title then it will always come with a booklet. Please note this only applies to May 2023 releases onwards.
Q. What about all the current products on your site?
A. Titles will come with booklets and slipcovers if listed as having a booklet on First Pressing and is within 4 months of its initial release or for as long as stocks last.
Q. How do you define a slipcover?
A. A slipcover, also known as an O-Card, is a printed soft cardboard case which the plastic Blu-ray case is placed in.
Q. What is the difference between a slipcase and a slipcover?
A. A slipcase is a more rigid cardboard case usually found with boxsets to cover multiple cases while a slipcover is only used for one Blu-ray case.
Slipcase: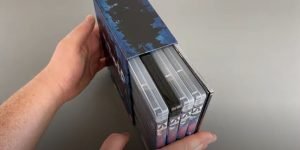 Slipcover: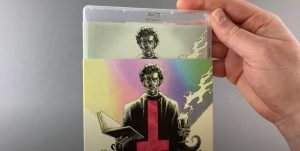 Q. "Limited Edition" used to describe titles packaged in a slipcase, with posters, thicker booklets, etc; will you only be using slipcovers for these instead?
A. Select Limited Edition releases will still be packaged in a slipcase, but the phrase is now also being applied to initial pressings of all new release titles, and are distinguished by the presence of a slipcover and booklet.
Q. Will Limited Editions always include posters?
A. If a Limited Edition release includes a poster this will be included in the features on the product page and/or shown with an image.
Q. Will you always release a Special Edition (non-Limited edition) version of a title once the Limited Edition has sold out?
A. Yes, a Special Edition will also be released but without any physical extras.
Q. What if I buy a Special Edition but would still like a slipcover or booklet with it? Will you have any spare from the Limited Edition run?
A. I'm afraid once we have sold out of the Limited Edition, we won't be producing extra physical materials for a release. We have a large range of digital versions of booklets which can be accessed via My Account.
Q. Where can I see a list of your available Limited Edition titles?
A. Here is our list of Limited Edition titles for the UK and for the US.
Q. How do I guarantee that I will receive a Limited Edition title?
A. We always recommend pre-ordering as soon as possible to ensure that you won't miss out as Limited Edition stock is truly limited.
If you have any additional questions then please reach out to us via your Account or through social.